Crowe MacKay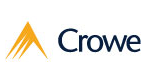 Crowe MacKay's Vancouver office is currently seeking a CBV to join our fast growing Valuations and Litigation Services support team.
We would welcome interest from candidates for a position at the Manager or Senior Manager level.
Ideal candidate will be ambitious, curious individuals with an interest in problem solving, an eye for detail, and good written and verbal communication skills.
We can offer interested candidates:
Exceptional prospects for advancement;
Exposure to diverse work (see below);
Lots of responsibility;
Help in developing your personal brand and practice;
A flat organizational structure and continuous hands-on mentoring;
A friendly, team-oriented environment;
Great work-life balance; and
A competitive financial package.
Our valuation group is situated in our Vancouver office and services our nine markets in Western and Northern Canada. We offer a wide range of valuation and related services, including:
Litigation support in the areas of family law, shareholder disputes, general commercial litigation, insurance claims, and personal injury.
Fair value for financial reporting.
Corporate finance – valuations in connection with the purchase and sale of business interests, due diligence services (quality of earnings reports), and assisting both purchasers and sellers in the negotiation of terms for the purchase.
Financial modelling, preparation of business assessments, viability studies and computer based financial projections.
Valuations in the context of corporate reorganizations; estate planning assignments; management buy outs; going private transactions (fairness opinions); formal valuations; shareholder and employee share purchases, etc.,
Interested candidates do not need to have experience in all of these service offerings to apply.
Crowe MacKay offers a competitive salary and benefits package.
Your Journey at Crowe MacKay
At Crowe MacKay, you have the opportunity to deliver innovative solutions to today's complex business issues. We strive to provide a range of services to a diverse array of businesses. Our firm has grown to nine markets across Northern and Western Canada, not only because we deliver consistently exceptional service, but because we attract employees at all levels who are passionate about their work and have been recognized as an employer of choice. We are over 50 years strong and still growing.
To Apply
Please reply in confidence to Daniel Sturgess, CPA, CA, CBV, CFF. Send us your cover letter outlining why you believe you are our successful candidate along with a copy of your resume via email to resume@crowemackay.ca with CBV in the subject line.
Please note, only successful candidates will be contacted for an interview.
More About Crowe MacKay
We are committed to giving back to the communities in which we live and work. Not only are we involved in charitable organizations as a firm, but we support and encourage our employees and many community organizations with which they are involved as well. We firmly believe that a strong community creates endless opportunities for education, employment, and increased quality of living. Crowe MacKay services clients worldwide as an independent member of Crowe Global, one of the largest global accounting networks in the world. The network consists of more than 200 independent accounting and advisory services firms in more than 130 countries around the world.